The Space Coast First Priority Program
Preferred Client Emergency Recovery Program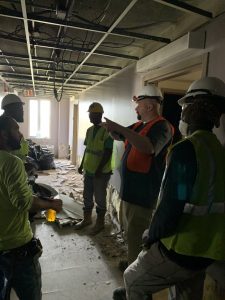 If a disaster hits your property, time is of the essence. Call Paul Davis Restoration of the Space Coast to sign up for the First Priority program, a free restoration contingency solution for risk managers, property managers, and facility directors.
Our industry experts understand the process of assessing and restoring structures damaged by water, fire, wind, and natural disasters. We understand the value of returning the efficiency of your structure with minimal disruption, which is why we guarantee a complete return to its pre-loss or better condition.
The Emergency Recovery Program includes:
Personal Account Manager for single-source accountability
Training provided to your staff at no cost
Insurance carrier consultations
Contents cleaning and restoration
FREE Business Emergency Preparedness Plan (for a limited time)
How it Works
When you join Paul Davis Restoration's Emergency Recovery Program, you become a preferred client in the event of an emergency. Whether you are the only one experiencing the loss, or if you've suffered damage do to a large-scale catastrophe such as a hurricane or storms that disrupt a number of businesses; you will be among the first to receive our services.
Step One: Contact Your Paul Davis Representative to Complete the Emergency Recovery Service Agreement
Step Two: Complete the Emergency Preparedness Plan with Your Paul Davis Representative
We will work with you to collect all the data you need to respond rapidly to any emergency. This includes:
Insurance and Policy Information
Emergency Contact List
Notification Priorities
Important Facility Information
Exit Route Information
Mechanical Rooms and Shutoffs
Assets List
Key Vendors List
Step Three: Your Paul Davis Representative will stay in touch throughout the 2-year agreement to keep your plan updated
Step Four: (We hope you don't get to step 4) In the event of an emergency, whether it is flood, fire, storm damage, trauma situation or mold, call Paul Davis' Emergency Hotline for immediate assistance.
With the Emergency Recovery Program, you can guarantee that your business is ready for a disaster before it strikes. Through this strategy, we can make sure that your organization gets back on its feet as soon as possible with minimal interruption to your daily operations.
Included in the First Priority Program are:
Personal Account Managers
Free staff seminars
Insurance carrier consultations
Complete emergency restoration and re-construction services
First Priority helps your business prepare for a disaster before it hits. To prevent future damage, facilitate disaster recovery, and minimize loss of revenue, we will proactively develop a customized plan. By creating a game plan, you ensure that your business gets back on its feet as soon as possible with minimal interruption in your daily operations.
The Space Coast First Priority Program